As small business social media service providers, we at Wobizzle definitely support the idea of a small business owner delegating social media to a trusted staff member, freelancer or agency. That said, I recently found myself untangling a social media access mess for a small company that had placed too much trust in their social media manager.
It's not the first time I have encountered the issue. So, I thought it was a case study worth sharing.
The Problem
The company hired me to take on their social media activity which had been stagnant for some time. I met with the owner and key staff members to discuss the business and formulate a plan.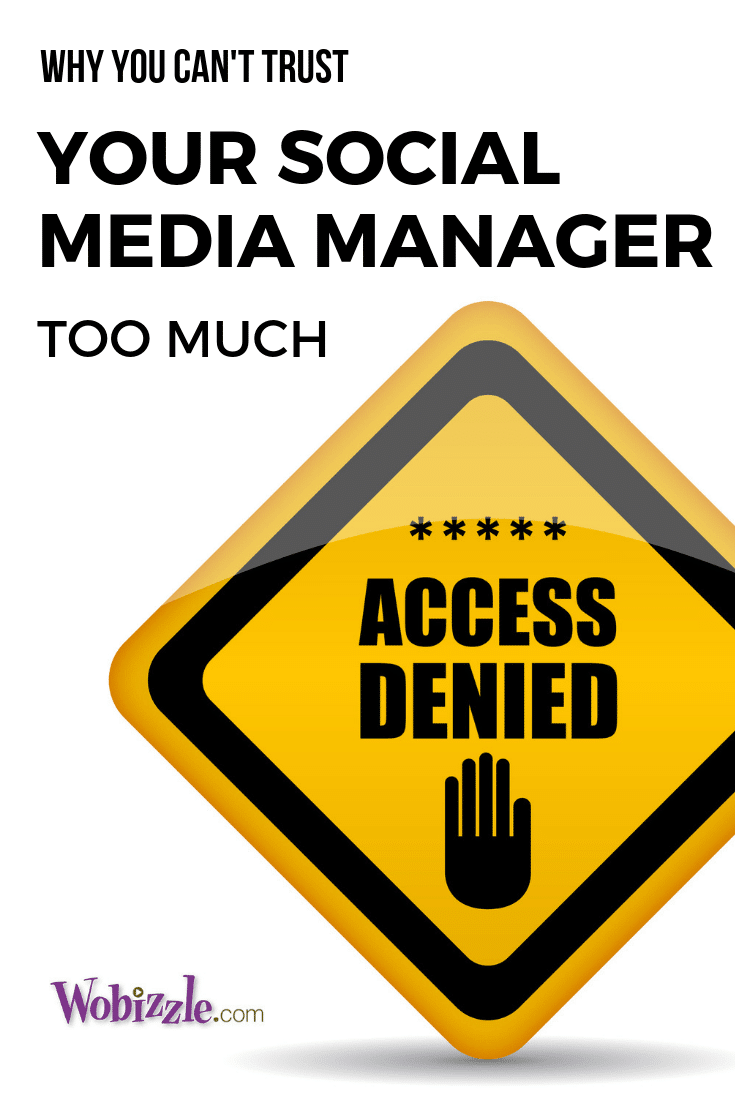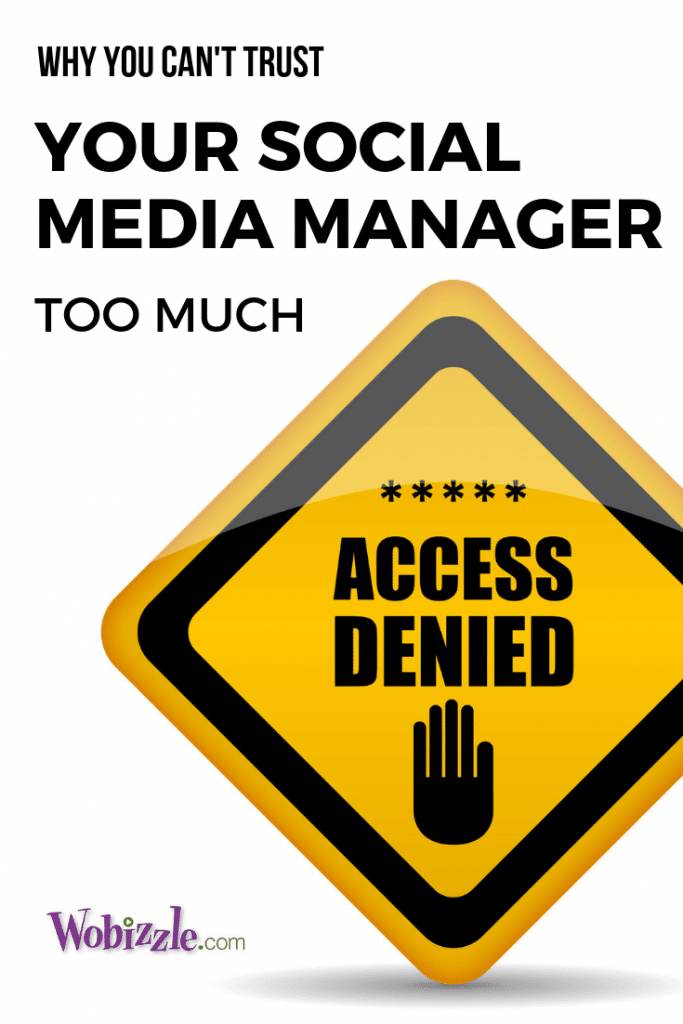 I started the process of updating the company accounts, freshening cover and thumbnail images, and creating evergreen content. That's when  I discovered that there was no login or password information on file for two of the company's four social media accounts. Further investigation revealed the accounts had been set up by a former staff member. That staff member had failed to share the information with others on the staff team. She had also failed to assign any secondary administrators to the accounts.
Basically, these accounts were still controlled by the social media manager who had left the company before I had been called in to help. The accounts in question were on Twitter and LinkedIn. The company had no access to the accounts. Staff members could not post updates. They could not assign new administrators. They could not make any changes to the pages. The control remained in the hands of the former social media manager.
In my process, I reached out to the former employee to transfer access. She was unresponsive. She either overlooked the requests, or did not feel obliged to help.  I don't believe there was underlying malice in this case. I think the failure to share was just an oversight.
Regaining Control
Regaining control of the company accounts was a time-consuming endeavor. We started by sending a message from the owner's email account to the support centers of Twitter and LinkedIn. We explained the situation and asked for help to take control back.  Twitter responded within a few days with instructions on how to proceed. The process involved uploading a statement on company letterhead to a link provided by Twitter. Twitter offered information on what the statement needed to address, and instructions on ensuring that the statement would be received by the proper contact at Twitter.
LinkedIn took a little more effort. After more than a week of waiting for a response on the support ticket, we decided to call a customer service number I found online. After several travels through a loop of "press 1 for…press 2 for…" my client was able to speak to a real person. That real person moved the request forward, and within a few hours, we had regained control over the page and removed the former admin. Before suggesting that you try this at home, I would point out that I think it made a difference that my client was a premium member (aka paying customer) of LinkedIn.
All in all, it took more than a week for us to regain control of the platforms. Imagine if that former employee had decided to use her power for evil, and had posted rogue updates during the time the accounts were not in our control. Perhaps, Twitter and LinkedIn would have acted more quickly in that situation. But regardless, damage would have been done.
Best Practices
Unfortunately, there is no across-the-board fix for managing the security of your social media accounts.
Facebook
Facebook's set up is the easiest to work around. For a small business, having the business owner as the administrator on the account and assigning "editor" roles to other key players makes sense. The administrator maintains full control of the account. Assigned staff members or service providers are able to post updates and make some edits to the page.
Twitter, Instagram & Pinterest
For Twitter, Instagram, and Pinterest it's trickier. You must share your login and password information with anyone who you want to manage the account. The best security here is to make sure the account is listed under an email address and phone number that you, as the business owner, control. That would help protect you if the worst case scenario happened and your social media manager went rogue and changed the password. You'd be able to reset it or communicate with Twitter, Instagram or Pinterest to resolve your problem.
Third Party Software
Perhaps the best option is using a third party scheduling software program like Hootsuite, eClincher, Buffer, etc. These programs not only allow you to schedule social media posts in advance, they also allow you to maintain control of your account while assigning staff members or outsourced service providers posting responsibilities to your accounts.
Are you a social media manager or social media consultant? Share your best practices for managing access to business social media accounts in the comments below.