If you're a full time freelancer, no doubt you have experienced the roller coaster ride also known as WAITING TO GET PAID. Symptoms include: being ready to pounce when the mail carrier arrives. You also know the fastest route to the closest branch of your bank. And, you are quite aware of the latest possible time to make a deposit that will be credited for the same day.  It's stressful. You can't control when that check is cut. But there are some things you can do to get paid faster.
Get Paid Faster By Invoicing Immediately
When you have projects piled up on your plate, it's easy to put off administrative tasks. Though you may not directly charge your clients for the time it takes you to create and send an invoice, invoicing is a revenue generating activity. If you don't invoice, you won't get paid.
Your clients won't start the process of paying you until after they've received your invoice. So, invoice as soon as possible after you've wrapped up a project or your hours for the month. The longer you wait, the longer you will be waiting to get paid for the time you've put in.
Get Paid Faster By Knowing Your Clients' Pay Cycles
Many businesses have specific pay cycles. If you are working with a client on a regular basis, it's worth asking if they have a pay cycle that you could/should follow for invoicing.
For example, I have a client that I work with three or four times a year. This particular organization cuts checks twice a month. Checks are cut on a Monday. The invoices are due for processing on the Wednesday before the checks are cut. If I can get my invoice in by the Wednesday deadline, I can get paid two weeks faster than if I wait.
Get Paid Faster By Accepting Credit Card Payments
Many online time tracking and invoicing programs like Harvest, FreshBooks, etc. allow you to give your clients the option of paying invoices by credit card. You will need a PayPal (or similar service) account to make it work.
Embrace it. You may be surprised to discover that some clients prefer to pay this way. My experience has been that clients that do pay this way, pay faster. So far, record time is three minutes from the time I invoiced.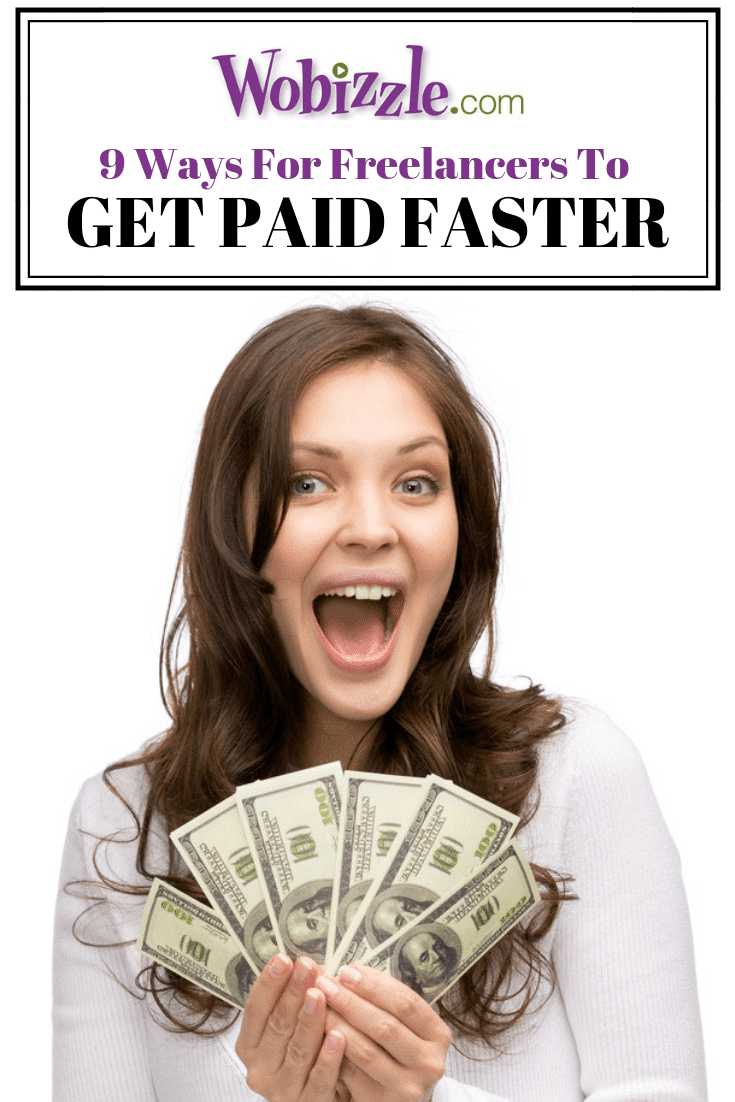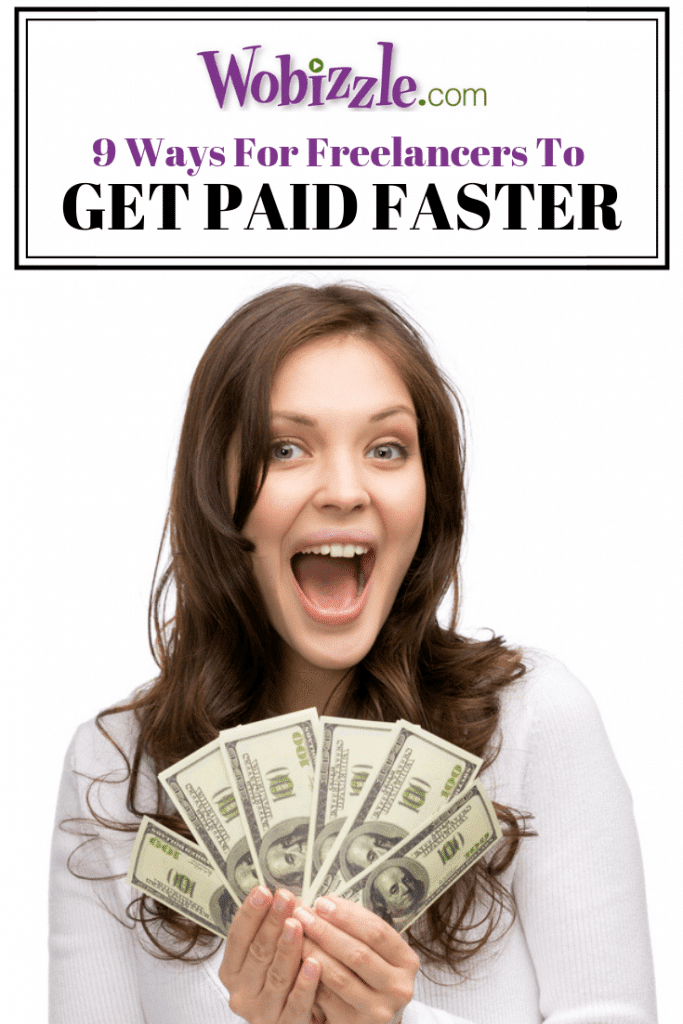 Get Paid Faster By Requiring Money Down
For me, this was a lesson learned the hard way. Long story, but about six months into my business, I got stiffed for 50+ hours of work.
I was naïve. And, since I had a good rapport with the client, I had no reason to believe I wasn't going to get paid.
I wish I knew then that requiring a percentage down was a common practice among freelancers. It may not have resulted in me getting paid for all of the work, but I would have been paid something.
Nowadays, depending on the size of the project, I invoice for 20%-50% upfront for new clients and clients that I have worked with previously, but do not work with on a regular basis.
Get Paid Faster By Charging A Late Fee
Add a late fee to your invoices to motivate clients to pay on time. Some invoicing programs allow you to set this up automatically. Spell out the terms on the invoice. Clearly state when payment is due and how the late fee will be calculated.
It doesn't have to be much – 1%-2% per month after the payment due date can be enough to get a client's attention. It's also enough to make you feel a little better about getting paid late if they are a slow pay.
Get Paid Faster By Working On Retainer
It's great work if you can get it. Working on retainer typically means that you get paid at the beginning of the month for hours you will be working during that month. Retainers are typically longer-term agreements. For example, a client might sign on with you for 20 hours a month for six months or a year.
You get paid before you actually perform the work, which is great. But because the client has made an advance purchase of your time, you are beholden to them to be available when they need to cash in on the time they've purchased.
That said, it doesn't mean you can't establish some boundaries. You'll want to have a signed contract or signed written agreement spelling out the terms and expectations of both parties. It would also be worth addressing in writing what happens if the client does not use all of the hours they have purchased. Are they forfeited? Do they rollover?
Get Paid Faster By Accepting Payments On Large Invoices
This is probably not a strategy you want to implement on a regular basis, but there may be times when you may want to consider accepting payments on large invoices.
For example, I have a client I have been working with for almost five years. He consistently pays within 7 days of receiving my invoice. About a year or so ago, he was experiencing some cash flow issues. At the same time, he was ramping up his marketing and needed more help from me (about twice as many hours) than he typically needs in a month.
When he received my invoice, he contacted me, explained his cash flow situation and asked if he could pay the invoice in payments. I agreed.
It was a good solution for both of us. It gave him a little time to recover from his cash flow issue and I was at least getting something, instead of waiting for the entire amount later.
I would not have done this for just anyone. He and I have a well-established relationship and I felt like it was a good decision that I could live with.
Get Paid Faster By Cutting Off Repeat Offenders
If you have clients that are routinely slow at paying their invoices, you may want to think twice about working with them.
If your "slow-pays" are creating a hardship for you, they may not be worth the stress you experience while you are waiting for their payments to arrive. It takes time and energy to follow up on invoices and rework your budget when expected payments don't arrive. You could be spending that time and energy doing work for clients that pay you on time.
At the very least, consider pressing the pause button on any new work until you've been paid for the past hours you have put in. Be sure to communicate why so they understand what your expectations are.
Follow Up To Get Paid Faster
The simplest thing you can do when invoices go unpaid is to follow up.
Don't just sit idly by. Yes, it can be awkward, but if you've put in the work, you deserve to be paid.
Think about it this way. If you just walked out the door without paying for a cut and color at your hair salon, someone would follow up. It would be immediate, and possibly with shears in hand.
As a freelancer, you don't usually benefit from getting paid at the time of service. But, when your invoice is due, it's due.
Decide on your payment terms, clearly state them on your invoices, and follow up when payments are overdue. My invoices are due upon receipt. I typically start follow up after 30 days.
A friendly email reminder usually works. Sometimes invoices just get overlooked or stuck on someone's desk.
Do you have any strategies to get paid faster that I haven't covered? Tell us about them in the comments below.
---
RELATED ARTICLE: Six Ways To Make More Money As A Freelancer